How to Clean Hood Filters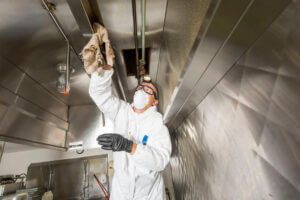 You've found the right article if you work in a commercial kitchen, and want to know how to clean range hood filters.
It is an important aspect of commercial kitchen maintenance that many people overlook, but it is essential.
Continue reading for tips on how to clean hood filters.
How to clean hood filters
Once you are able to properly clean the filters, it is not that difficult.
It takes just minutes to clean your kitchen hood filter.
How do you clean the range hood mesh filters? Here are seven cleaning steps for range hood filters:
You should remove your filters from the hood.

You can fill your kitchen sink with hot water.

Use hot water to make dish soap and baking soda.

Let the solution sit for at least 10-15 minutes before putting the filters in.

To remove any remaining grease, use a non-abrasive cleaning toothbrush.

Rinse the filters and dry them.

You can replace your filters under the kitchen hood.
How to know when it is time to clean your hood filter
The hood filters should generally be cleaned every few weeks. Kitchen hood filters are vital in keeping your kitchen safe. They should be cleaned frequently to prevent grease buildup.
Although some filters may last up to 4 weeks, it is best to replace them every 2 weeks.
3 Hood Cleaning Tips
These are the top three tips for kitchen hood filter cleaning.
Use super hot water. The hotter it is, the easier it is to clean the filters.

If you're not confident about your abilities to clean the filter, a professional can do it for you.

Make sure to clean your entire kitchen range hood on a daily basis.
When you need a professional hood cleaning company
These are just a few ways to know if it is time to call in a professional range hood filter cleaner.
You aren't confident in your abilities to clean filters on a kitchen hood.

You don't have the time or patience to thoroughly clean your range hood filter.

If you are a forgetful cook, it is best to have a professional clean your kitchen hood.

You don't have all the materials necessary to clean your kitchen hood.

There is a commercial kitchen inspection in the near future, so you need your kitchen hood to be spotless.
Hood Filter Cleaning Service
LA Hood Cleaning is available to assist you with any of your range-hood cleaning needs, such as routine cleaning or inspections.
Our professional kitchen hood cleaners would be delighted to assist with maintaining the integrity and appearance of your commercial kitchen.
Our concern is for the safety, efficiency, and integrity of your commercial cooking facilities. We not only want to keep your employees safe but also to ensure the integrity of your workplace.
LA Hood Cleaning is available to answer any questions you may have about our commercial kitchen cleaning services. Give us a call today at 310-340-6232.